NAGELSALON
Niets is te basic of te kort
Als eerste wil ik je graag vertellen dat gel of acrylnagels je nagels niet kapot maken.
Gebeurt dit wel dan komt dit door verkeerde applicatie en/of verkeerd verwijderen van product.
Vroeger (30 jaar geleden) werd er een andere soort acryl gebruikt waarbij de nagels opgeruwd moesten worden (vijlen op de nagels). Sommige stylisten en docenten houden nog vast aan deze oude gewoonte en zijn nog niet up-to-date met de nieuwe technieken of producten.
Een nagel (jouw eigen) is zo gemaakt dat het alle invloeden van buitenaf kan weren. Alleen water en sommige oliën kunnen in de nagel dringen. Om een product te laten hechten is er primer nodig, wat vijlen op de nagel dus geheel overbodig maakt.
Je boekt eenvoudig en 24/7 je afspraak via de online agenda.
Alle behandelingen worden gedaan vanaf 18 jaar. Bij nagelbijters word niet zomaar een product geplaatst. Beide hebben te maken met 'science based beauty'.

Je dient zonder product op je nagels naar de salon te komen. Heb je nog product op je nagels van een andere salon, boek dan ook 'Removal Only' samen met je gewenste behandeling via deze link. In de boekingsvoorwaarden word uitgelegd welke risico's er voor ons beide zijn.
Whats next? 
Je set blijft 3 á 4 week mooi afhankelijk van dagelijkse bezigheden en verzorging. 
Daarna kom je terug voor een bijwerking waarbij je opnieuw kan kiezen voor een andere kleur met of zonder nail art.
Maak je geen zorgen als er een nagel is afgebroken of ingescheurd, deze word gratis gerepareerd.
Opnieuw een afspraak boeken:
Via de online agenda boek je opnieuw je afspraak. Voor biab kies je opnieuw voor biab. Voor je bijwerking van extensions kies je ook voor biab.

Er worden geen extra kosten berekend voor het verwijderen van je oude set wanneer deze gezet is door Lisette's Nagelstyling.
Ook wel bekend als natural nail treatment, overlay of versteviging.
Je eigen nagels worden verstevigd met een dun laagje gel waardoor je nagels 'hard as rock' zijn en kunnen groeien zonder te breken. Ook kan dit oneffenheden in je nagels verdoezelen of de vorm van je nagels optisch ietsje veranderen. Deze gel is er in veel verschillende kleuren van wit tot roze, beige, nude en pastel kleuren, met en zonder glitter.
Op de foto hieronder zie je een 'before, after & beyond' waarbij er 7 week verschil zit tussen de 1e en 3e behandeling (2e bij 3 week, 3e bij 7 week).
Zoek je nog naar nail art inspiratie?
In de salon zijn verschillende voorbeelden te vinden waar je uit kan kiezen.
Ook heb ik een Pinterest bord gemaakt waar je inspiratie op kan doen. Een link hiervan vind je ook terug in de mail van je afspraak bevestiging wanneer je voor de optie 'nail art' hebt gekozen.
Wanneer je zelf een idee hebt gevonden, graag wel even overleggen op voorhand via e-mail of WhatsApp om te zien of dit ook daadwerkelijk mogelijk is, want sommige nailtechs maken echt ware kunstwerken.
Wil je iemand verassen? Een giftcard is dan ideaal! De ontvanger kan zelf beslissen voor welke behandeling zij kiest.
Je kan deze giftcard ophalen in de salon en eventueel feestelijk laten verpakken in combinatie met de Dadi'Spa Giftset. Ook kan de giftcard digitaal worden verstuurd.
Je kan elk gewenst bedrag kiezen.
Ik ben Lisette
Nagelstylst en docent met een missie om de nagelbranche naar een hoger niveau te tillen. Zelf ben ik verkeerd opgeleid, je denkt al gauw 'het zal wel goed zijn, die weet wel wat ze doet' maar blijkbaar zat de vork toch anders in de steel. Ik heb mij met ontelbare trainingen helemaal omgeschoold naar een specialist op gebied van natuurlijke nagels. Zonder goede fundering kun je namelijk geen huis bouwen. Gezondheid van de natuurlijke nagels staat voorop.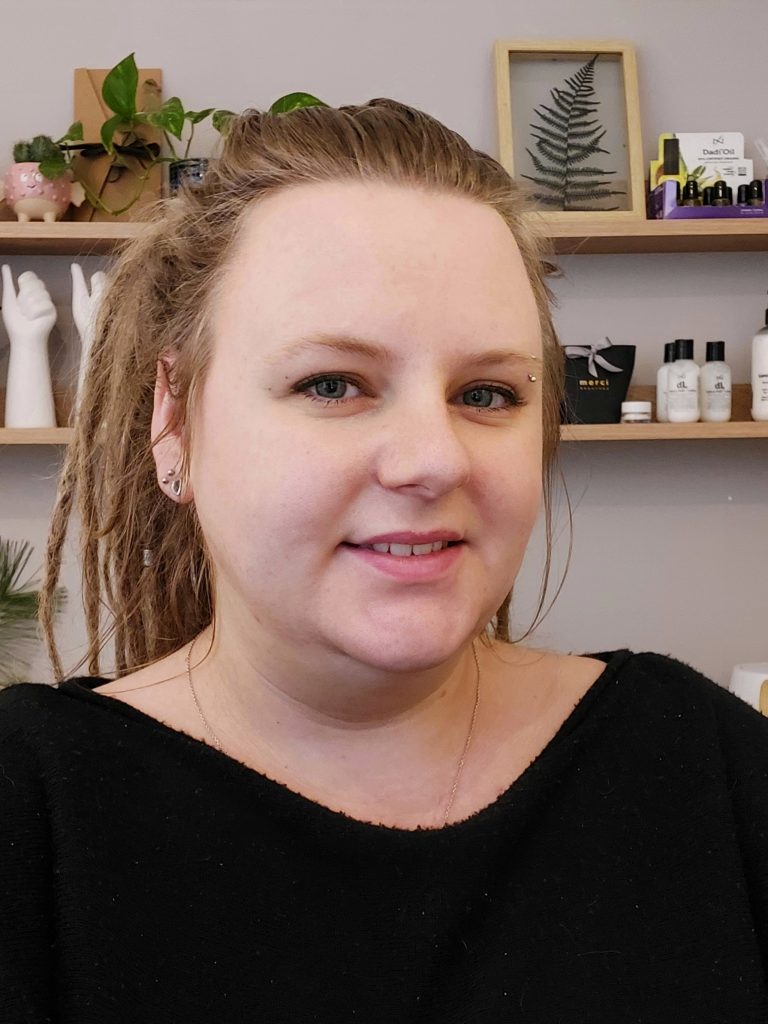 Ik heb mijn salon aan huis, in een ruimte met eigen voordeur en is van alle gemakken voorzien: verwarming & airco, wastafel, koffie/thee en een wachtruimte – soms inclusief onze kat.
De gehele salon is huisdiervrij en zonder rondslingerende haren, maar als ik weet dat ik geen klant na je heb en jij er geen problemen mee hebt, dan mag onze lovebug soms blijven chillen op de extra stoel.
Mijn salon bevind zich in een rustige woonwijk en je kan direct voor de salon parkeren.